ROYAUME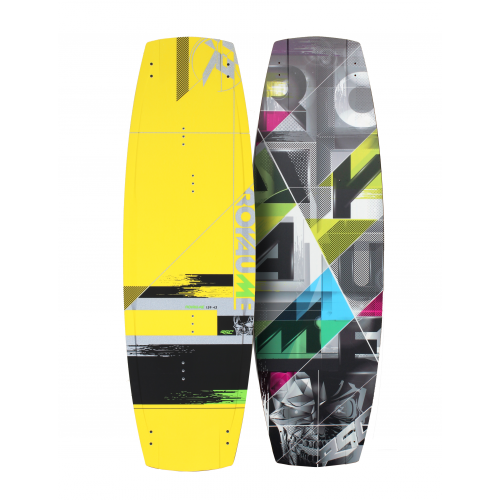 Remove this product from my favorite's list.
Add this product to my list of favorites.
ROYAUME
The ROYAUME is totally dedicated to the new-school wake-style/freestyle trend. Ready for taking off?
We wanted , with this board, meet the expectations of the most demanding freestylers and the result doesn't disappoint : a pure wake ... with excellent planning , comfort and great acceleration !

The shape has been developed to have a strong detent, with a maximum of pop for boosting jumps, but it is mainly the balance while in the air that will amaze you: it is with confidence perfect control that you will land your wildest tricks ... without knowing you've grown ... and thanks to the flex / rocker combination, landing will be smooth as butter!
Intended to be ridden in choppy water plans, you will be surprised by its excellent freeride behavior in chop and waves
Rideable with pads or bindings , you can even go enjoy a few cable sessions to ride the modules only to find that its kingdom has no limits other than yours !
2015 shape
Completely new shape, bigger, wider at the tips, the grip on the rail was increased giving much more grip to pop, better upwind. The new combination flex rocker greatly improves comfort in the plans of restless water ... although efficient wake-style, the new ROYAUME huge progress in versatility!
Freestyle

dehooké

crantage

Air control

Wakestyle

chausses

modules

pop

Freeride

vitesse

confort

cap

accélération

Vagues

surf